Built-in Deep Learning Algorithm | Accurate Code Identification by OPT Smart Code Reader
Release time:2023-03-21
Source :
As a critical means to get product code information, the industrial reading technology is widely applied in production process control, warehousing logistics, etc. The efficiency and accuracy of code readers are important indicators of their performance. The OPT smart code reader is equipped with advanced technology to improve barcode reading rates. It features a built-in deep learning algorithm and aberration correction algorithm, which greatly improves the reading ability in complex scenarios such as tilting, dirt and low contrast. Furthermore, the reader boasts a high-precision imaging unit and multi-channel uniform lighting system, ensuring higher image quality, barcode positioning accuracy, and code reading accuracy.
Built-in deep learning algorithm for stable reading of barcodes
OPT has launched six smart code reader series (resolutions: 0.4 to 20MP) to meet the code reading requirements of various industrial scenarios.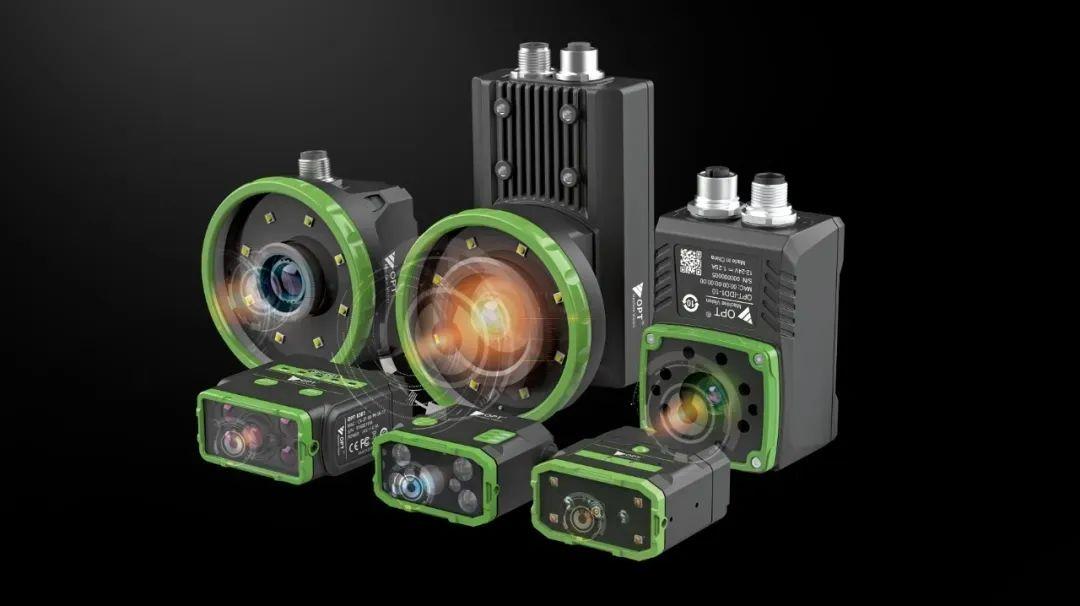 The smart code reader is equipped with a built-in deep learning algorithm that contains a large number of sample data, allowing it to adaptively learn advanced semantic feature information of codes. This feature enables the reader to remain unaffected by barcode damage, blurring, dirty, low contrast, poor print, etc. It boasts a fast code positioning and high reading capability in complex scenarios.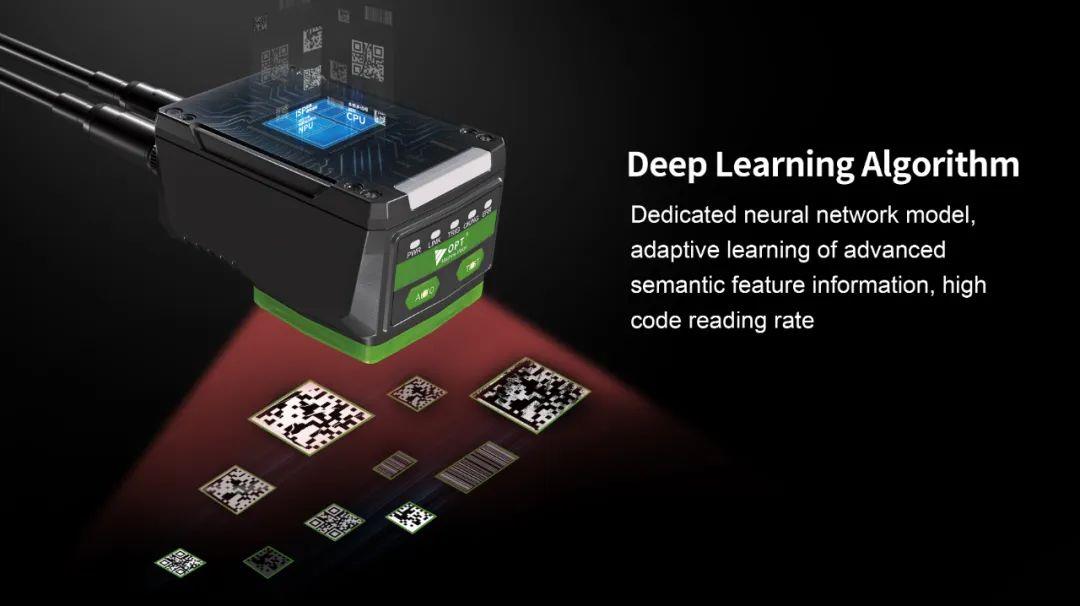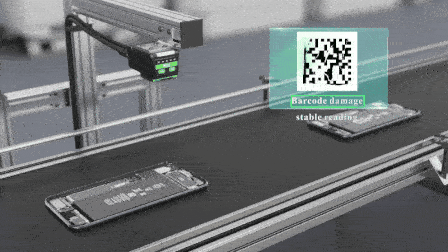 The lithium battery industry is a prime example of an industry that requires information collection throughout the entire process, from raw materials to finished products and transportation, to facilitate product tracking and management. The quality of barcodes can be easily affected by various factors such as coding processes and materials. To address this, the smart code reader utilizes a deep learning algorithm to automatically distinguish barcode components, characters and abnormalities and stably read laser, laser engraved, inkjet and embossed barcodes.

Additionally, the smart code reader is equipped with an aberration correction algorithm that enables it to automatically correct deformed barcodes, resulting in accurate readings. For instance, the smart code reader is capable of stably reading deformed barcodes on cylindrical cells, bottles and other products, regardless of curved surfaces.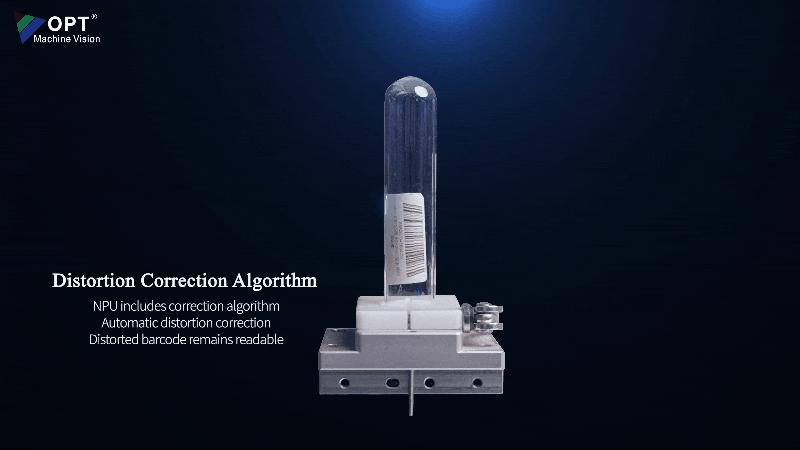 High-precision imaging unit for high image quality
To further improve the barcode reading rate, the OPT smart code reader is equipped with a high-precision imaging unit, which consists of a low-noise high-sensitivity sensor and lens of extended depth of field. This technology improves the image quality, enabling the reader to reliably read barcodes at different working distances, fields of view, and reflectance properties.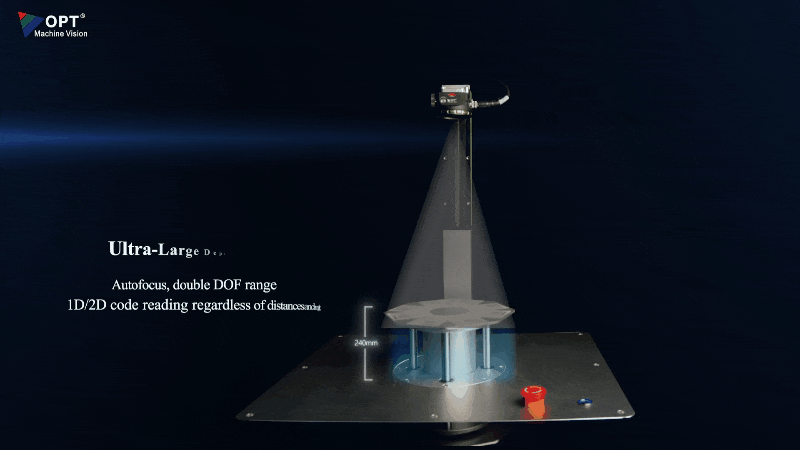 Compared to conventional sensors, the sensitivity of the smart code reader has been improved by several times, allowing it to effectively eliminate stripe noise in low-illumination images with a high dynamic range. This means that it can produce bright images even in large fields of view and under low exposure conditions.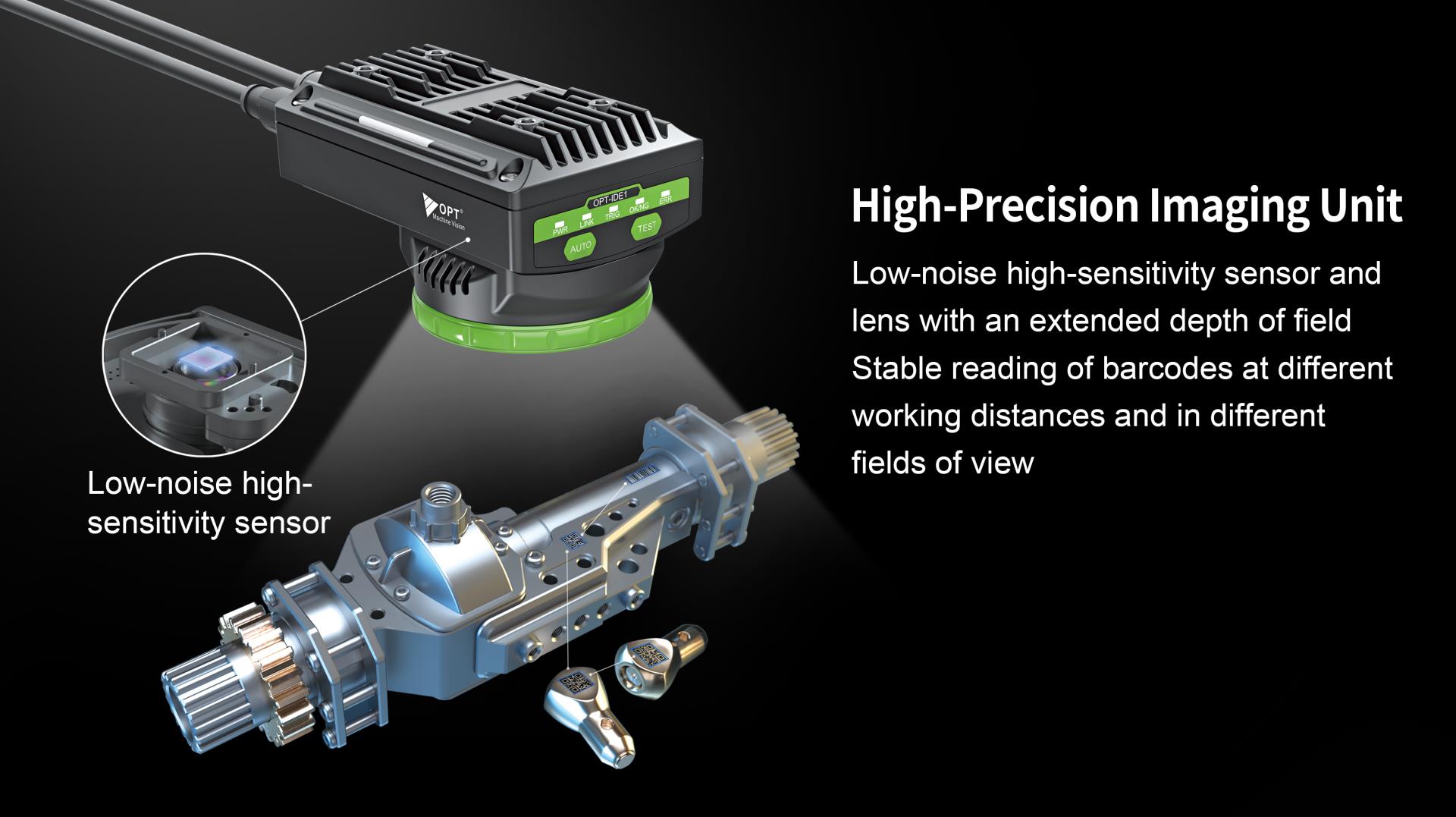 The smart code reader offers a range of lenses with focal lengths from 6-25mm to accommodate different fields of view and working distances. A telecentric lens is available for reading miniature or hidden barcodes with stable accuracy, and a C-port lens can be used to read barcodes of ultra-large depths of field and in large fields of view.
For example, the OPT smart code reader with a telecentric lens can be set to a specific lighting angle to explicitly read hidden barcodes on glass parts of mobile phones.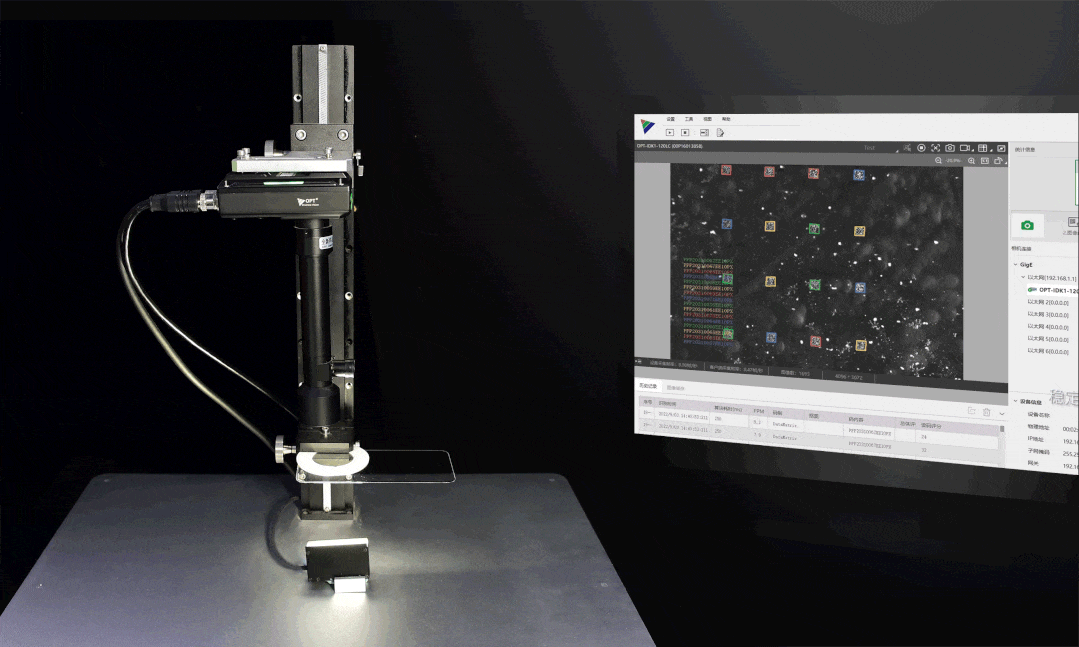 Reading of hidden barcode on glass
Multi-channel uniform lighting system for high barcode positioning accuracy
The smart barcode reader is equipped with a multi-channel uniform lighting system that includes four independently controllable light sources (upper, lower, left, and right) capable of emitting white, red, or blue light. This allows users to select an appropriate light source for a specific field application, greatly reducing image segmentation and recognition difficulties for the algorithm and improving barcode positioning accuracy and reading stability.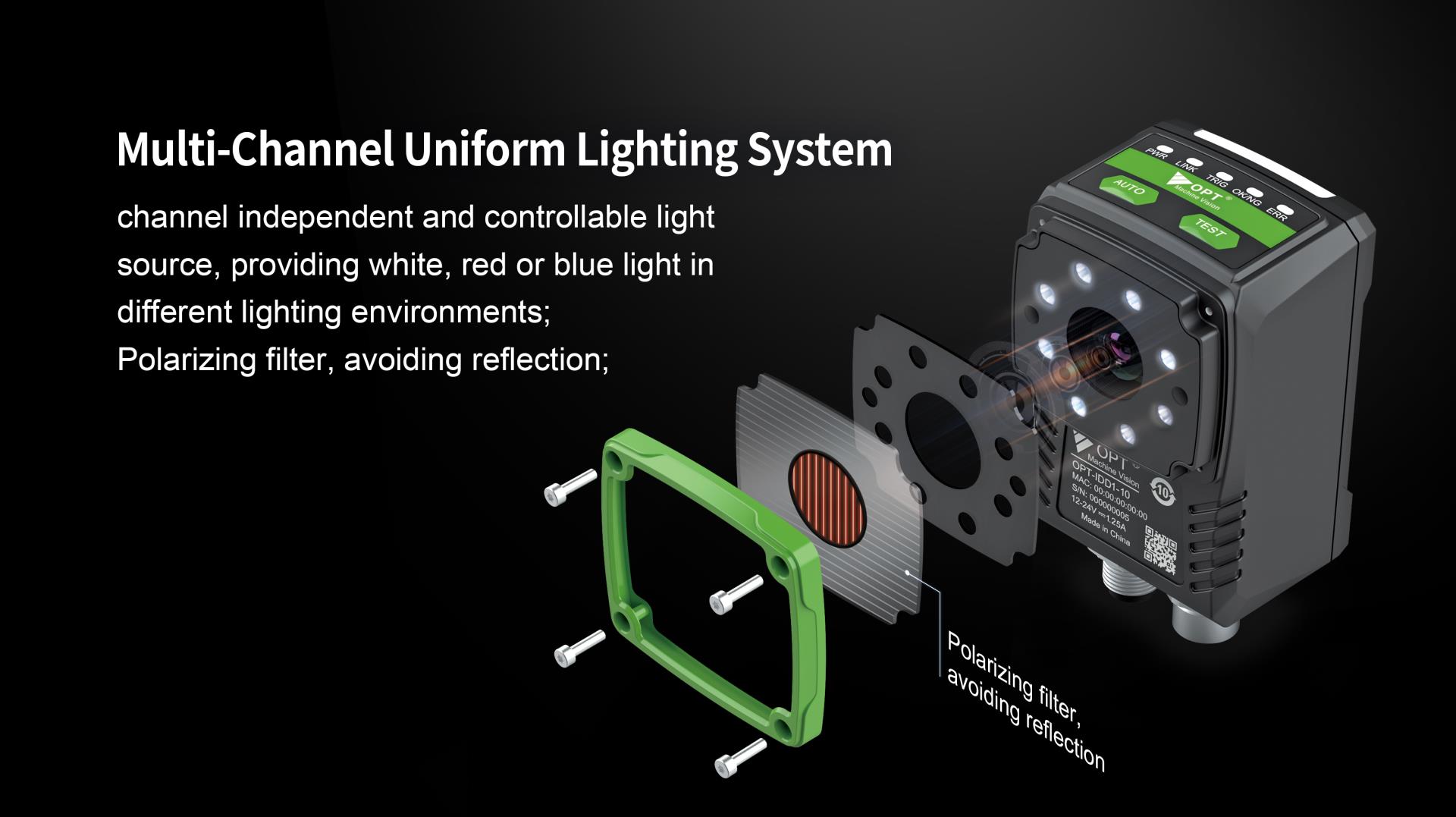 The smart code reader is also equipped with a polarizing filter to effectively eliminate reflective noise, capture clear barcode images and improve brightness uniformity and reading accuracy.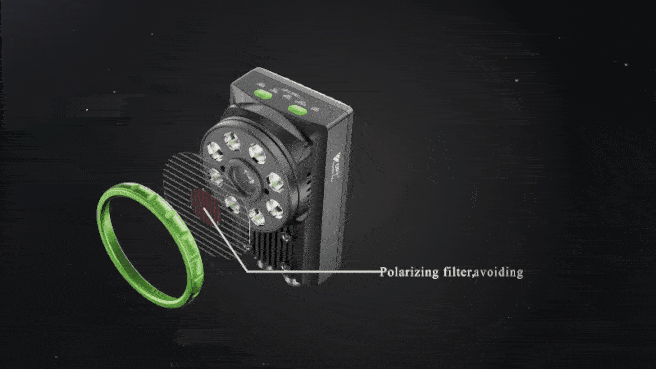 For example, in the automobile manufacturing industry, barcodes are directly etched onto metal parts for part management and tracing. However, because the carriers of these barcodes are highly reflective, there may be light spots during the scanning process, resulting in difficulties in accurate reading. Since the light source can be adjusted according to barcode carrier materials and reading conditions, and the polarizing filter can be used to avoid reflection, the OPT smart code reader is able to stably read various barcodes.