New Product Launched! OPT 3D Laser Profiler Family Upgraded!
Release time:2022-08-04
Source :
Page views:
The demand for high-precision automatic optical inspection (AOI) in general and for 3D laser profilers in particular remains very high. It is here that OPT, a specialist in machine vision products, has expanded its product range with new 3D laser profilers. The new products are equipped with a number of innovative techniques: telecentric optics, highly dynamic image acquisition, and AI algorithms developed in-house. These innovations are proving particularly effective in weld defect detection, image pre-processing and delivering highly accurate 3D point clouds in real time.
OPT's model range so far already includes more than ten 3D laser profilers. Their specifications already include several field of view sizes, accuracies as well as dynamic high speed ranges. These are used in various industries: Lithium battery production, 3C, machining, electrical and electronics industry, semiconductor industry, automotive and supplier industry.
Micron-level accuracy, ultra-high-speed 3D Profiler
OPT's 3D laser profilers use a blue laser line (405 nm) and extremely precise optics. In combination with an IC processor, the brightness of the laser is automatically adjusted to the surface condition of the measured object, thus achieving an optimal laser line to be measured. The scanning rate of the new 3D laser profilers reaches up to 67000 contours per second. The measuring accuracy goes down to the micrometer range. This enables extremely fast 3D scans of surfaces in which defective structures of products can be easily detected.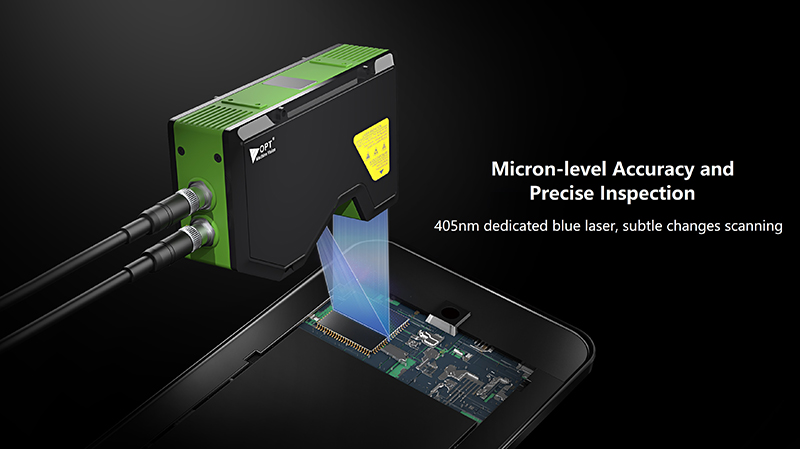 When inspecting precision parts in the 3C industry (computers, communications and consumer electronics), it is absolutely essential that a difference in height of the scanner mount is taken into account, that the necessary flatness is detected and that the effect of disturbing reflections is reduced. At the same time, it must be ensured that disturbing light scattering is minimized throughout the entire focal length range and that the image quality optimally reproduces all important product details and defects.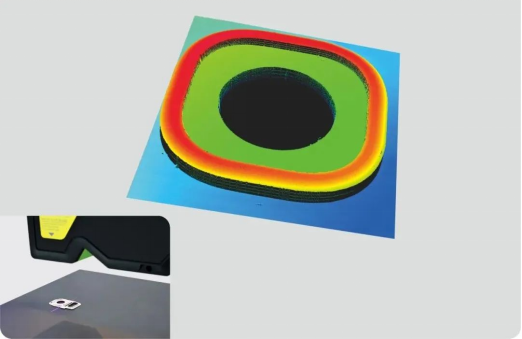 Optimized design of the telecentric optical path and free of blind spot in the included angle area
OPT 3D profilers have been optimized with Powell prism and telecentric optical path. The light distribution of the laser line is uniformly designed, which ensures high measurement accuracy. The light from the laser line scattered for imaging also takes the path through the telecentric optics.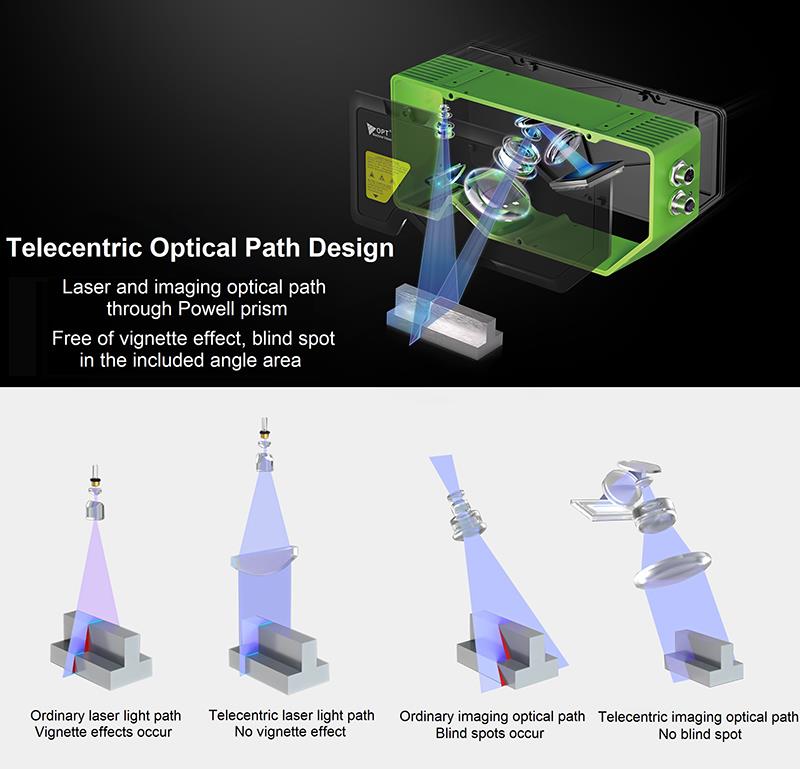 The telecentric optics and Powell prisms of OPT's 3D profilers prevent shadowed areas, enabling comprehensive defect detection. This is critical when inspecting steep areas or detecting defects in small fields of view, such as the top cover of lithium batteries, soldering sealing nails, printed circuit board components, and other inspection scenarios.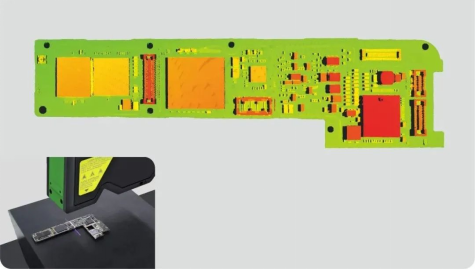 A 3D laser profiler by OPT checks its repeatability up to 30 times during the measurement to ensure optimal measurement results.
Multiple intelligent AI algorithms developed by OPT are integrated to improve efficiency and accuracy
A variety of intelligent AI algorithms are integrated into OPT's laser profilers. Furthermore, the laser profilers are equipped with FPGA edge computing technology, integrated tilt and height correction, and image pre-processing algorithms. Factory calibrated, the profilers are quickly deployable and adjustable by the user. All this leads to faster and improved quality of automatic optical inspection (AOI) in intelligent production lines.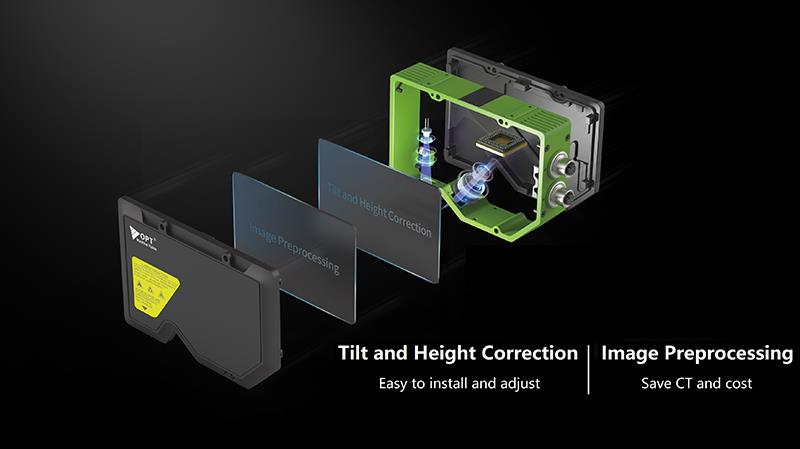 OPT 3D laser profilers can simultaneously combine high dynamic light rendering algorithm to achieve high speed and gain. This allows then to measure accurately even with low reflection or with reflective metal surfaces. Also, different colors, e.g. in a rubber production line, do not matter. Whether it is different materials or colors of products, the detection of objects can be made in versatile appearances.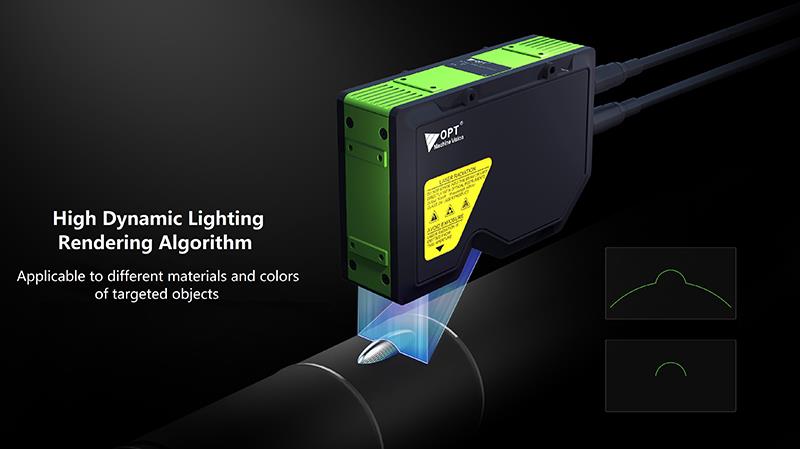 OPT has developed its own algorithm especially for defect detection on laser welds. One example is the welding of the top cover of lithium batteries. OPT's laser profiler can detect a variety of welding defect patterns and precisely define edge contours. This includes weld breakouts, pinholes, dimples, housing flap detection, etc., which greatly improves the efficiency and accuracy of automatic optical inspection.