OPT Product Introduction of the Matrix Cameras
Release time:2022-02-16
Source :
Page views:
Industrial cameras are the key components of machine vision systems because they capture the actual image. They are differentiated by area scan or line scan cameras. Choosing the right camera is a central component in the design of machine vision systems.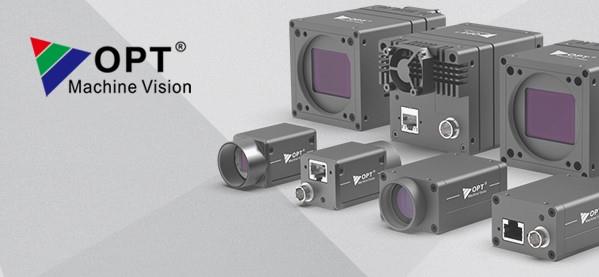 We are pleased to introduce our OPT industrial camera series:
Matrix cameras
.
Matrix Cameras
Cameras for industrial "smart" manufacturing
01. A wide range of camera models provide comprehensive coverage
The matrix series of industrial cameras from OPT cover resolutions
from 0.3 to 150 mega pixels
, includin
grolling shutter and global shutter.
Thus, all requirements can be covered.
02. Various ISP algorithms for excellent image quality
OPT's cameras are equipped with high-quality sensor chips. A variety of data interfaces, built-in noise reduction, sharpening, gamma correction and a wide range of image algorithms and functions ensure optimal image capture.
03. Binning: The merging of pixels
Binning technology combines multiple pixels into a single pixel. This improves the frame rate or light sensitivity, while the field of view and proportions remain unchanged.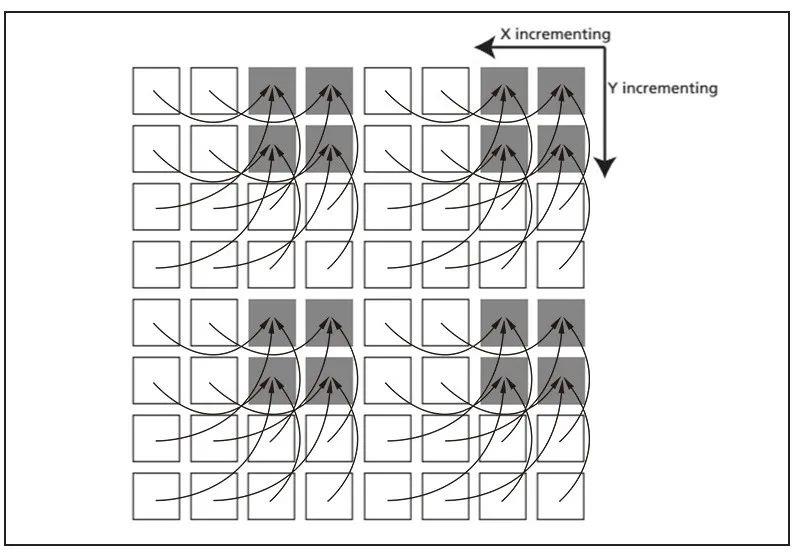 [Specifications and parameters]
*Please call or leave a message if you need more product specifications and parameters.
■ OPT Rolling Shutter Cameras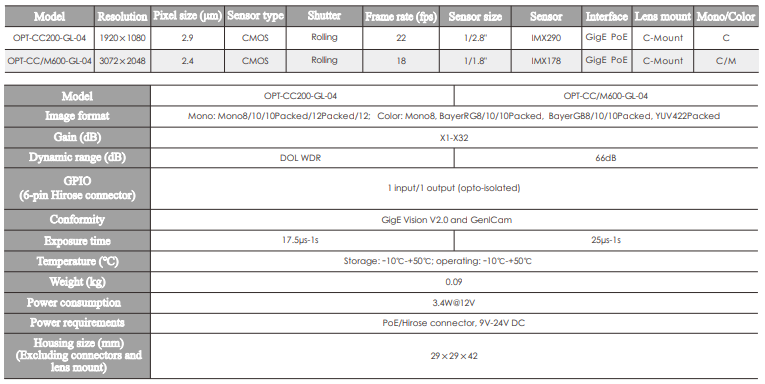 ■ OPT Global Shutter Cameras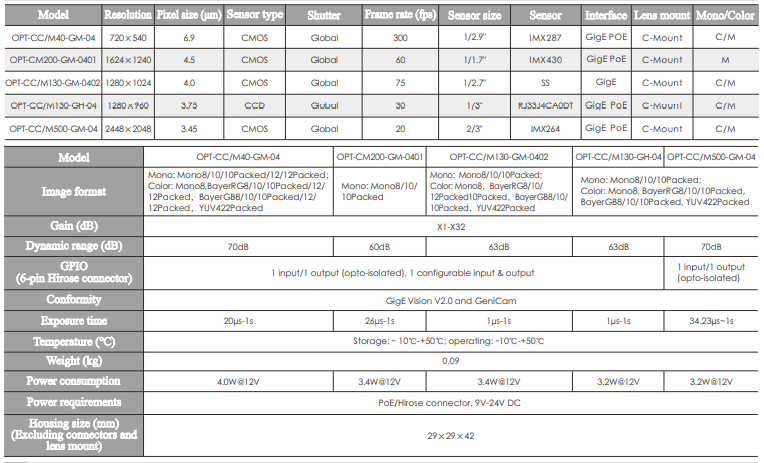 ■ OPT High Resolution C-Mount Cameras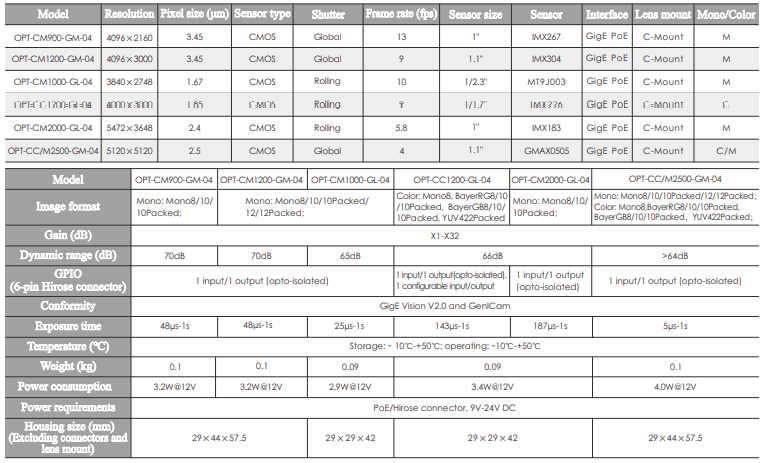 ■ OPT High Resolution Large Format Cameras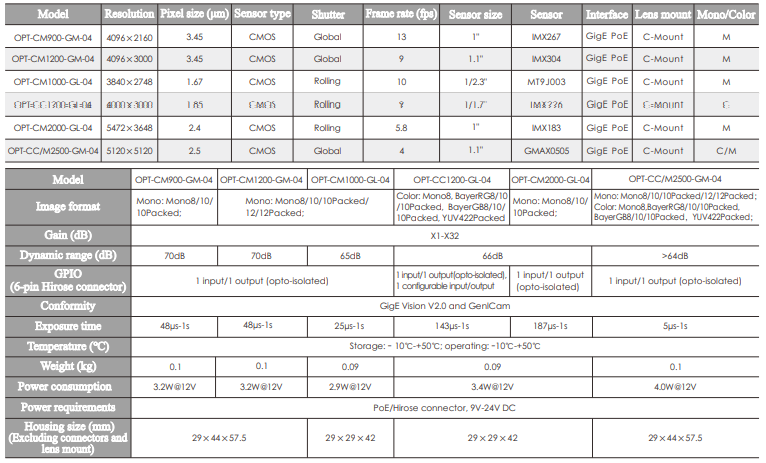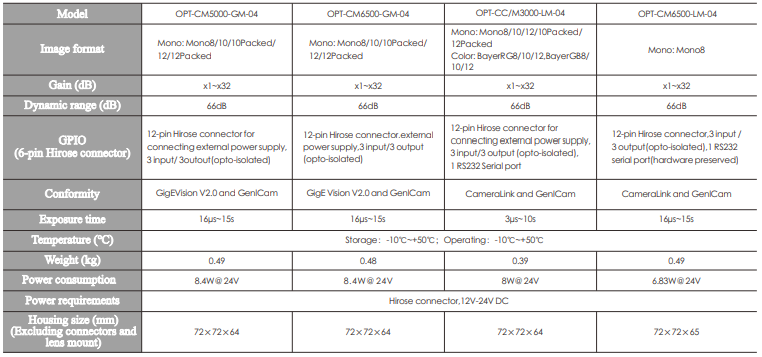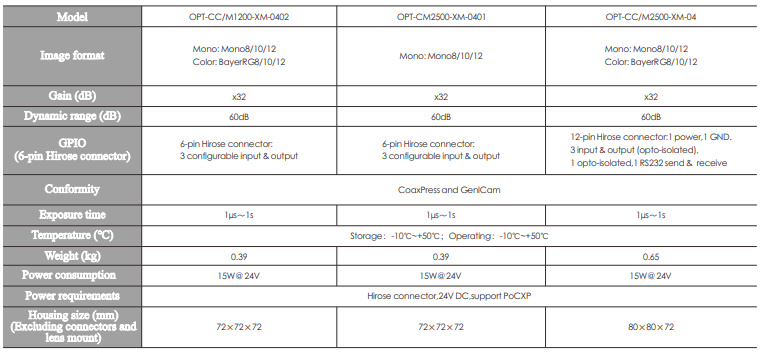 [Industry Applications]
■
Lithium battery industry
The detection of defects is crucial for the safety of lithium batteries. Battery manufacturers are placing increasingly higher demands on vision inspection. Especially with the introduction of the specification for the production of lithium batteries, this demand has increased. With industrial cameras, various lenses and light sources, OPT provides all components for
3D inspection, 2D code recognition, equipment and workpiece positioning, appearance inspection and other vision applications
for the lithium battery industry.

(Lithium battery defect detection)
■
Consumer electronics
In the consumer electronics industry, the positioning and measurement of vision systems is essential. Examples include
positioning of marker dots on touch screens, detection of chip defect, positioning of MIC laminates on cell phones, inspection of PCB solder joints, dimensional measurement, etc
. OPT industrial cameras are able to realize image processing applications with highest precision.

(Inspection of solder joints on PCB boards)
■
Automotive industry
OPT has been in the automotive sector for many years and can offer its customers a range of vision applications, such as
barcode reading, sheet metal part appearance inspection, parts defect detection, panel mark inspection, bearing inspection
and more.

(Inspection of the appearance of sheet metal parts)
■
Pharmaceutical industry
The pharmaceutical industry is an important supplier of products for human health and safety. The manufacture and packaging of pharmaceutical products must comply with national quality management standards for pharmaceutical production. OPT's machine vision systems for the pharmaceutical industry find many various defects in different applications:
Print inspection of pharmaceuticals, packaging defects, impurities in injection solutions, and sealing and labeling defects
. Finding such defects ensures the quality of pharmaceutical products.

(Capsule defect detection)
For more information
please contact us.
In the following, we will introduce
OPT industrial cameras in detail,
e.g. another product line of our
"Line Scan Camera Series"
.
Stay tuned!