78MP Fixed Focal Length Lenses
Introduction
Product Features:
◆
High resolution
Compatible with cameras which pixel ≥ 3.2μm and max. full frame (Ø44mm) sensor;
resolution up to 160lp/mm in full FOV.
◆
Broad spectrum
The coating band is 400-1000nm, compatible with visible light and near-infrared band applications.
◆
Floating focus structure design
The floating focus structure design is adopted to effectively ensure good optical performance under a wide working distance range
[1]
[1] Equipped with flange adjustment gaskets to maximize the optical performance of the lens used with the camera.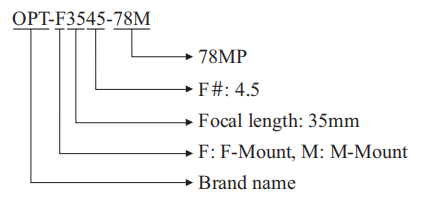 Lens model

Applications

Downloads

Compatible Devices